At Intuit's inaugural event QuickBooks Connect, I had the pleasure of attending Robin Hall's session "Consulting strategies for the Intuit-centric accounting professional". Even as a non-Accountant, I learned a lot and was really inspired by one of Robin's stories around how she cultivates a healthy corporate culture at her accounting firm.
I asked Robin if she would re-share the story for the greater Method Community. I hope you enjoy it as much as I did!
About a year ago, the Method team delivered a couple of pizzas to my office so my team and the Method team could enjoy a virtual pizza party. It was really cool. Even though we were separated by a few thousand miles, it was a great customer and partner experience.
Since that time, I have tried to do things with my staff that are unique, personal, and not found at any other company. We have done things like pedicures, dinners, limo rides, bowling nights, laser tag, and more. Some of these activities have included spouses and some have been just for the team. I want my staff to be a team that knows and trusts one another, not just professionally but also personally.
For my company's 15th year anniversary, I took everyone out for a nice, steak dinner. As the appetizers were arriving, I passed around hundred dollar bills and instructed everyone to take one – they just couldn't take the one that had their own initials on it. I went on to explain to my rather perplexed team that it takes 30 days to create a new habit, good or bad. The challenge was for each person to pick a habit they wanted to break or create, and they had 30 days to do so. The habit could be personal or professional; either way, I knew it would affect their professional well-being.
The goal or habit had to be peer-reviewed and approved by the other staff member holding their hundred dollar bill. Everyone was responsible for encouraging everyone else, but especially to encourage the person whose initials were on the hundred dollar bill they possessed. You see, after the 30 days, the results would be peer-reviewed; but the keeper of the person's hundred dollar bill had the final say on whether that person achieved their goal or broke their habit. Everyone's goal or habit was written on the office white board where they were seen and talked about daily in passing. It was a great way to keep people on their toes, and notice when they weren't meeting their goal.
Over the next 30 days, the office-wide encouragement was great to watch. At the end of the 30 days, we went to a pumpkin patch with our kids and spouses in tow, took the pumpkins back to my house for a "family" dinner, and even carved the pumpkins. As the team ate together, we all went around the room and talked about each of our goals. It was amazing to hear everyone on my staff open up to report honestly about how they had met their goal and what they personally found to be the most difficult part of the challenge.
I am pleased to say that everyone received their hundred dollar bill, but everyone also received something more valuable than money. They all received an awareness of how their actions are perceived by others and a starting point to seeing themselves in others' eyes. As the business owner, I know this challenge benefited everyone on a personal level, but I also understand how the positive outcomes will be felt exponentially by my customers in the days, weeks, and even years to come. Every action has an equal and opposite reaction. I believe sometimes the opposite reactions can be felt from light years away.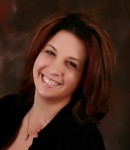 Robin Hall is the Principal Consultant at VARC Solutions; she is an Advanced Certified ProAdvisor and has been consulting on QuickBooks products since 1999. Not only can she be seen helping her clients but she often teaches other Intuit Consultants at various Intuit centric conferences around the country.
If you have had success with a team exercise or event, let me know in the comments below! And if you're interested in becoming a Method Partner, like Robin, check out the Method Partner Program page.