Our Method Retreat is just days away. Getting ready to attend a multi-day event can be a bit daunting, so I thought I'd help out and put together a packing list of important things to remember. Print it out and use for your Retreat Packing – and even for any other conferences you attend in the future.

Your Passport!
First things first, when travelling internationally, make sure you have your passport, and ensure it's up to date! Before travelling to Scaling New Heights this year, I realized mine was expired! I rushed to get it renewed and it was delivered in the knick of time! So learn from my mistakes and dig out those passports early to make sure you're good to go!

Your Laptop
Our Retreat has 2 full days of hands-on training, that means you're going to need your laptop! Make sure you bring your charger too!

A Light Jacket & Comfy Shoes
September in Toronto is beautiful – however, the weather can be pretty unpredictable. The day can start off hot, and once the sun goes down, the temperature drops. Since some of our social activities are taking place outdoors, I suggest you bring a light jacket so you can layer if you need to. Also, when we head to Niagara Falls, we'll be touring a few wineries, so make sure you bring comfy walking shoes. The Method crew is a pretty relaxed bunch, so when you're packing your outfits, think relaxed business casual.


Your Camera
Even if it is a little chilly, September in Toronto is beautiful. Don't forget your camera and selfie sticks so you can capture all the sights. You're going to have the best views of the Toronto skyline when we're on the boat cruise, so you'll definitely want to take photos of that! Not to mention, us Methoders are a pretty good looking bunch 😉

Hotel Confirmation Number
The last time I travelled internationally to a conference, I tried to check into my hotel, and somehow they had my name completely wrong! They didn't know who I was, and since I didn't have a room number, I couldn't log onto the wifi to check my email to get my confirmation number…we were at a stand still. Luckily I remembered I had printed out my confirmation number, so I dug into my suitcase, pulled it out, and all was well.


Your Party Hat
Ok, so maybe it's not an actual hat (although if you happen to have a party hat, please bring it, and maybe an extra one for me!), but make sure you pack your party spirit. We love to have a good time, and we're excited to host you and show you first-hand how much fun we have! During your time here, there's going to be a boat, a dj and photobooth…so get ready!

Canadian Dictionary
At last year's Retreat, our Partner Matt Raiser pointed out the differences between Canadians and Americans. So to follow suit, and since many of our guests are visiting us from the States (again, don't forget your passport!), I thought this Canadian Dictionary would be helpful for translating what us Canucks are saying when you arrive.

Canuck: Canadian
Loonie: $1 coin
Toonie: $2 coin
Washroom: Restroom
Pop: Soda
"It's 23 degrees out!": It's the perfect weather for all Canadians.
"Oh it's a bit chilly": You might need your winter jacket, but us Canadians may be in shorts…
"Eh?": "Don't you agree?"
"Eh?": "What?"
"Eh?": No meaning. Sometimes we just add it onto the end of our sentences…you'll get used to it, and probably start saying it before you leave 🙂

This Map!
This map will help you get from our preferred hotel (the Hyatt), to BrainStation (where our training will take place) and to Method:HQ.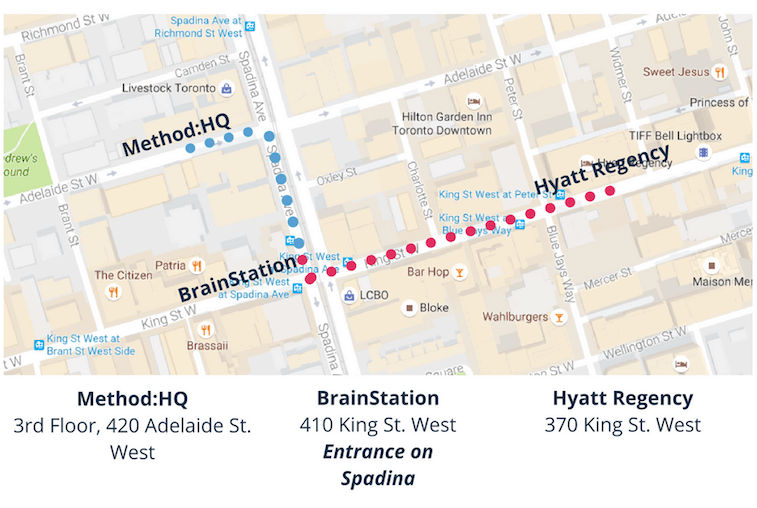 We're looking forward to seeing everyone in a few short days! #Retreat16 is going to be a great time, filled with learning, networking and fun. Hopefully this packing list will make prepping for your trip that much easier 🙂
If you run into any issues at all, for example if you need a translator for when someone tells you to "hop on the TTC and get off near the ACC", just email retreat@method.me
See you soon!
Kaitlin