On day two of QuickBooks Connect Toronto, Candybox Marketing CEO Darrell Keezer kicked off his session by holding up a selfie stick.
"I'm in social media marketing and that means I have to carry one of these. Does anyone know what this is? That's right, it's a self-absorbed stick."
After a quick group selfie, we were off to the races. It may not have been the traditional way of starting a conference talk — but that was kind of the point. After all, Keezer was there to talk about shaking up the status quo in order to move your revenue needle. More specifically, his focus was digital disruption: how to take your digital marketing strategy to the next level in order to grow your business.
Here are our top five takeaways from Keezer's session.
1. Your customers have changed
Keezer asked the audience to think back to 2008 for a moment. At the time, most people abided by some common-sense rules. Don't enter your credit card number online. Don't get into a stranger's car. Don't publish your location online. Seems like sound advice, right?
Fast-forward to 2018. Many people now have their credit card numbers saved in an app that shares your exact location so a complete stranger can pick you up in their car. Ten years ago, this business model would have seemed like the dumbest thing in the world. But as we all know, ride-sharing companies like Uber have revolutionized the transportation industry — and now they're reaping the rewards.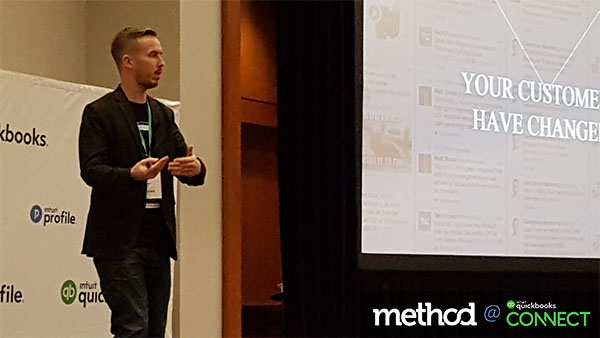 Today's consumers are tech-savvy and the way they seek out goods and services has changed. Only the companies that evolve along with their customers will be able to keep up.
2. Changing customer needs cause market disruption
Market disruption can be defined as a situation "when new business models experience rapid growth by replacing older models." Consider the simultaneous rise of Netflix and fall of Blockbuster: as customers became increasingly dissatisfied with Blockbuster's model for renting and watching movies, Netflix seized the opportunity to gain market share.
However, this doesn't mean that all brick-and-mortar business models are doomed to fail in the digital age. Explained Keezer, "It's not about digital or nothing — it's about, 'How are we meeting our customers' needs?'"
He shared his experience of working at a traditional agency, where clients would come to him and say they needed a website built very fast, for very little money. He used to laugh at these requests — "and then I realized I was 'Blockbuster-ing' my own industry." This experience led to him to start Launch48, a company that builds websites for clients in just two days via in-person collaboration.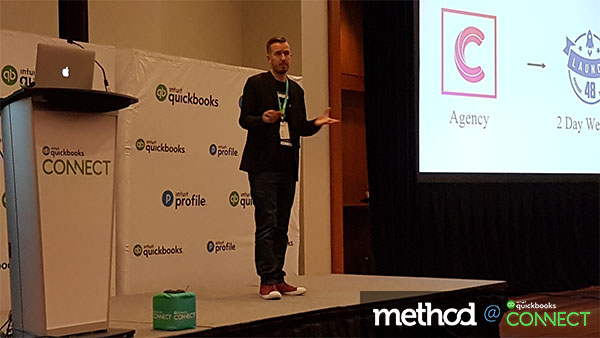 In the end, the most successful business model isn't necessarily the most digitally advanced one. It's the one that meets customers' needs in the current moment.
3. Rethink how you view certain groups
When you're developing your digital marketing strategy, make sure that strategy doesn't ignore key demographic groups.
There's a perception that Baby Boomers (those born between 1946-1964) are "technology morons." But as Keezer explained, this simply isn't true. He told the story of how his mother recently switched banks after working with the same banking advisor for her entire adult life. When Keezer asked why, his mother explained that she had seen a persuasive Facebook video from the other bank.
This example showed him just how comfortable the older generation has become with digital media: "Although they're not digital natives, they have become digital immigrants."
At the same time, many businesses have a perception of Millennials (those born between 1980-1995) as lazy, entitled kids living in their parents' basements. But Keezer offered a reality check: "Millennials aren't kids. They have kids!" These individuals are now adults aged 23-38 and they have disposable income to spend. Research has also shown that many them show strong enthusiasm for brands.
Said Keezer, "I believe that the next 10 years of successful companies will be those who embrace Millennials."
4. Be strategic with social media
Social media is a powerful marketing tool. But Keezer cautioned the audience against diving in blindly. You need to develop a social strategy — and no, telling everyone to follow you on every social network is not a strategy.
The best way to start is with your customer. Figure out where they spend time online and work backward from there. "If we think like our customers, we can win big time," said Keezer. Create valuable content and share it on the platforms where your audience lives.
The other important piece is to focus on engaging with the people who interact with your content. "So often, people try to bypass the relationship stage, but this is why we're really going on social media." Remember, the goal isn't to go directly from content to sales. Rather, content creates conversations, which create relationships, which create revenue.
5. Align your website with customer desires
That leads us to our final takeaway from the session: ultimately, your website is responsible for converting prospects and generating revenue. So if your website is terrible, the rest of your digital efforts won't matter much.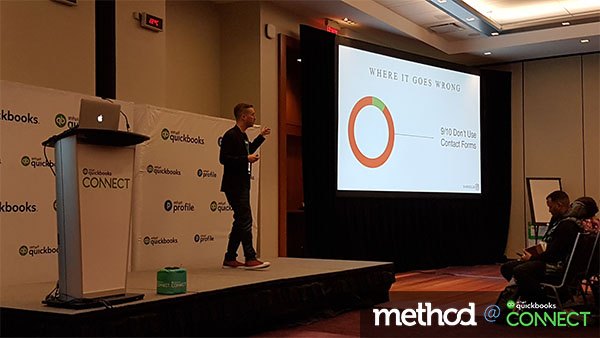 Keezer is a strong believer in the value of landing pages: dedicated web pages that address specific customer needs. "People that are doing well in marketing these days have landing pages and a really solid landing page strategy."
Ideally, every customer desire should have its own landing page on your website. Each landing page should provide customers with everything they need to make a purchasing decision — pricing, FAQs, downloadable assets, and so on. Explained Keezer, "If your website offer closely aligns with customer desire, your conversion goes way up." And don't be afraid to experiment with your page design until you find what causes that conversion.
Conclusion
As consumer behavior evolves rapidly, digital marketing strategies will have to evolve even faster. It's a big ask, especially for small businesses. But at the end of his talk, Keezer handily summed up why it's critical for businesses to stay ahead of the game: "Over the next few years, will you disrupt — or be disrupted?"
---
Want more #QBConnect content? Check out our full coverage of QuickBooks Connect Toronto 2018!