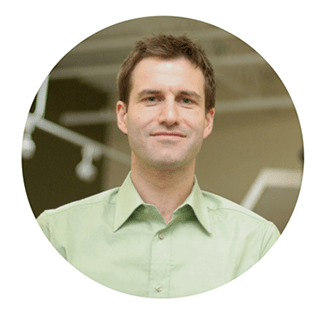 This year at Scaling New Heights (an accounting technology conference) I took to the main stage. I discussed machine learning and the impact it will have on accounting professionals serving small and medium businesses.
After leaving the stage, I was asked by several attendees for a copy of the presentation deck. I decided to do one better, and provide a transcript of my talk, along with the slides, here in a blog entry.
The key lesson I was looking to convey was that accounting professionals need to shift from providing functional, repetitive tasks, towards business process consulting and solution-based work.
In case you missed it, or you want a recap, view the presentation and read the transcript below.
---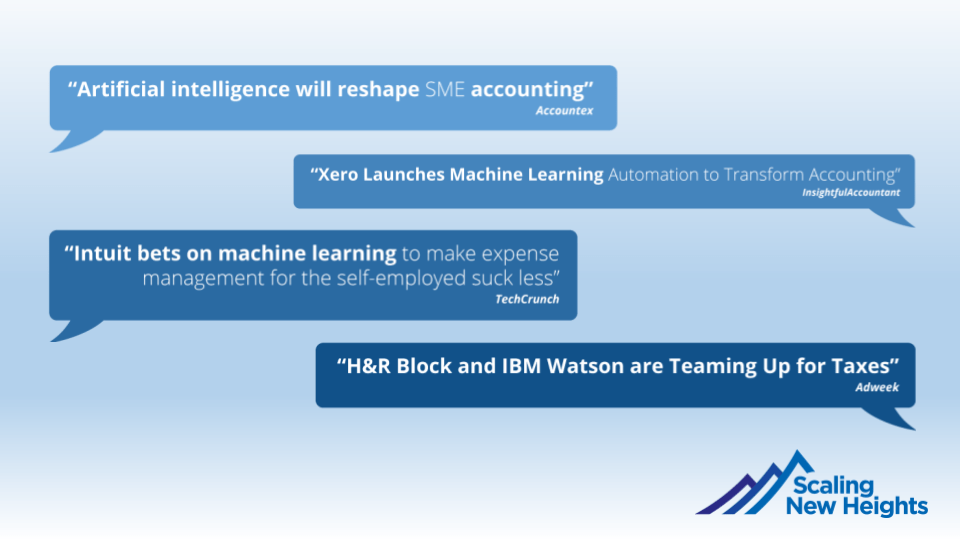 According to Accountex, "Artificial intelligence will reshape SME accounting".
Hi, I'm Paul Jackson, the CEO and Founder of Method Integration.
I have some more headlines for you! InsightfulAccountant covered Xero's launch of machine learning.TechCrunch covered Intuit's bet on machine learning. And apparently, H&R Block and IBM Watson are teaming up to do everyone's taxes!
Wow – what a year of headlines since the last time we were all together at Scaling New Heights 2016! When it comes to artificial intelligence, we're not just seeing headlines about self-driving cars, millions of cashier jobs disappearing, or achieving 97% accuracy in image recognition. This year artificial intelligence started to get real for all of us who are serving SMBs.
---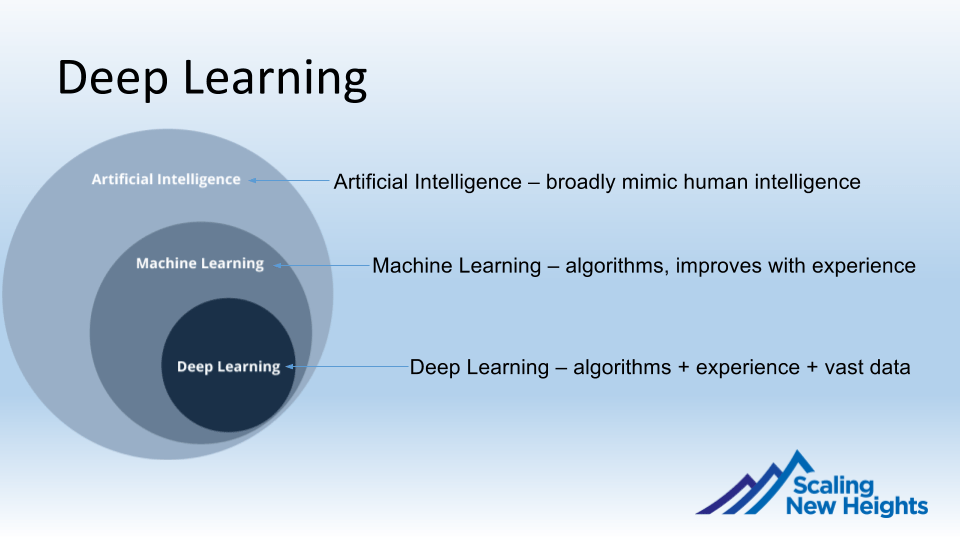 So what's behind this AI frenzy? Well, in the last 3 years, we've seen big breakthroughs in an area of machine learning, called "Deep Learning". Deep Learning is a subset of machine learning, which in turn is a subset of all artificial intelligence. Artificial intelligence is a very broad term to describe any technique that mimics human intelligence.
With Deep Learning, we get software that can perform tasks really, really well by exposing training algorithms to vast amounts of data. Deep Learning has become the most promising form of AI due to its ability to accurately find patterns that previously only human brains could do – but do so in a fraction of the time and cost of us humans.
---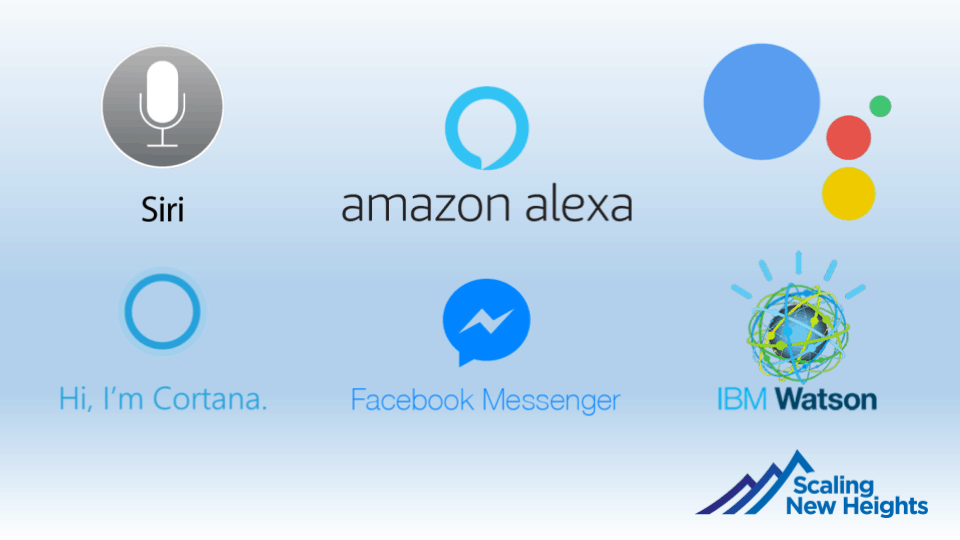 Deep Learning itself isn't new – but in the last 3 years it has reached a tipping point. With vastly improved computing power combined with vast amounts of data, the big tech companies (Microsoft, Google, Amazon, Facebook, Apple and IBM) have all raced to improve their applications, mainly in the areas of speech recognition, image recognition, and natural language processing, all using Deep Learning. Now that computers can learn to accurately listen, learn to accurately read and learn to accurately SEE….there is mainstream proof that AI has finally arrived, and that there are now true commercial implications within reach.
What's now driving innovation faster is that these big tech companies have exposed their technology to us via public APIs, empowering anyone to augment their work with machine learning relatively cheaply.
---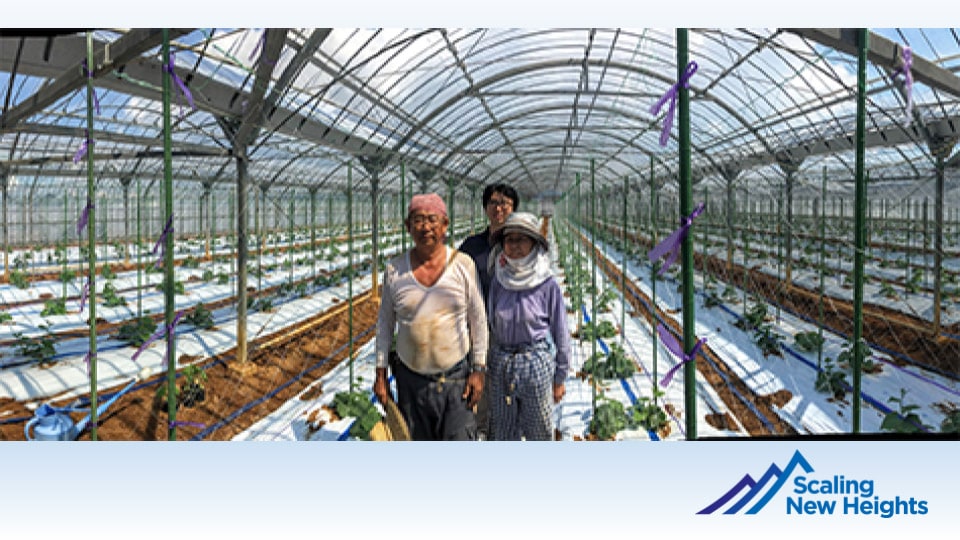 And by anyone, I mean anyone. This is a farmer in Japan. He used image recognition APIs from Google to auto-categorize his cucumbers at harvest time.
---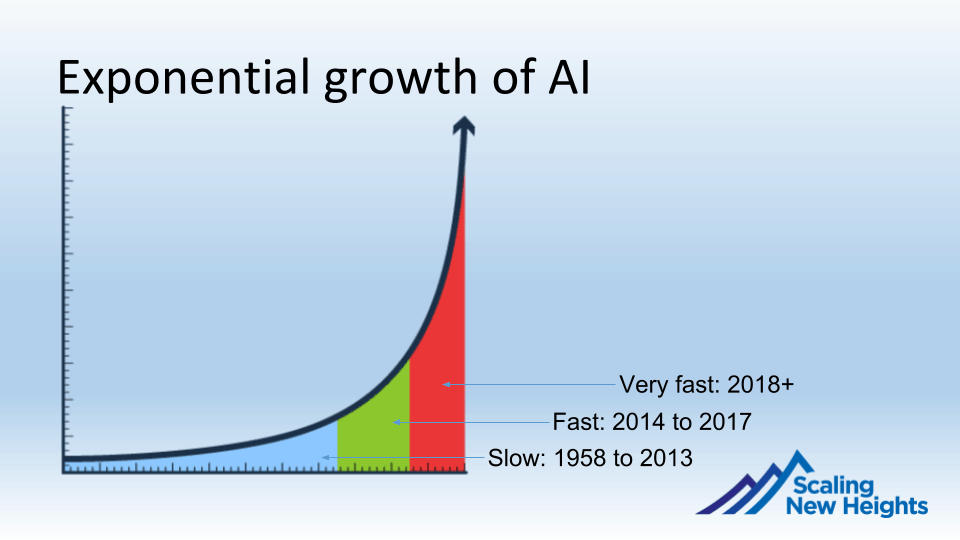 What we're experiencing right now is exponential change. Slow at first, and then fast, then very fast. This will change just about every industry, including ours – those of us that serve SMBs.
And that change is what I'm talking about today. So, what actions can you take to get ahead of this change?
---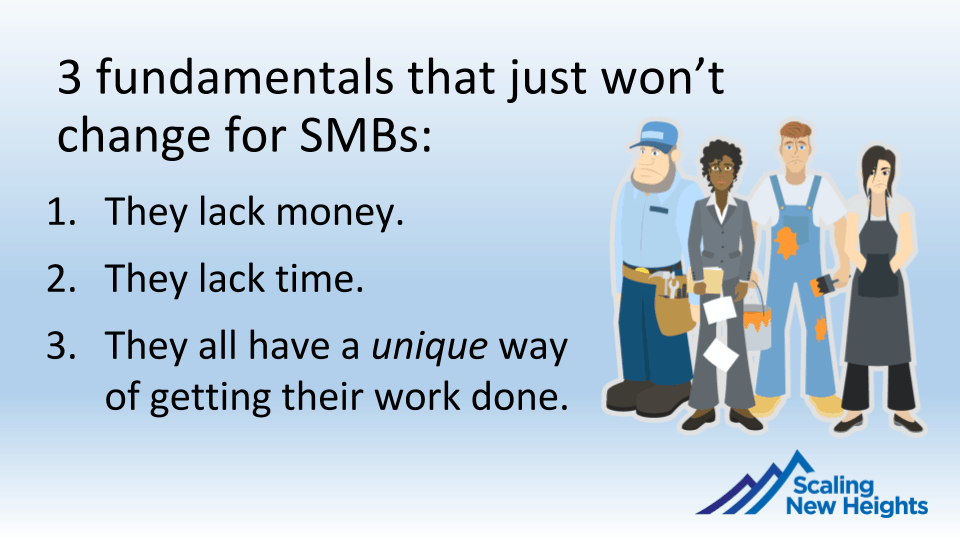 Well, let's step back for a second and first consider our SMBs customers. For SMBs there are 3 fundamentals that just won't change.
They lack money.
They lack time.
We've all witnessed this….they all have a unique way of getting their work done!
Also, they'll still be looking to their trusted advisers for professional services. That won't change either.
---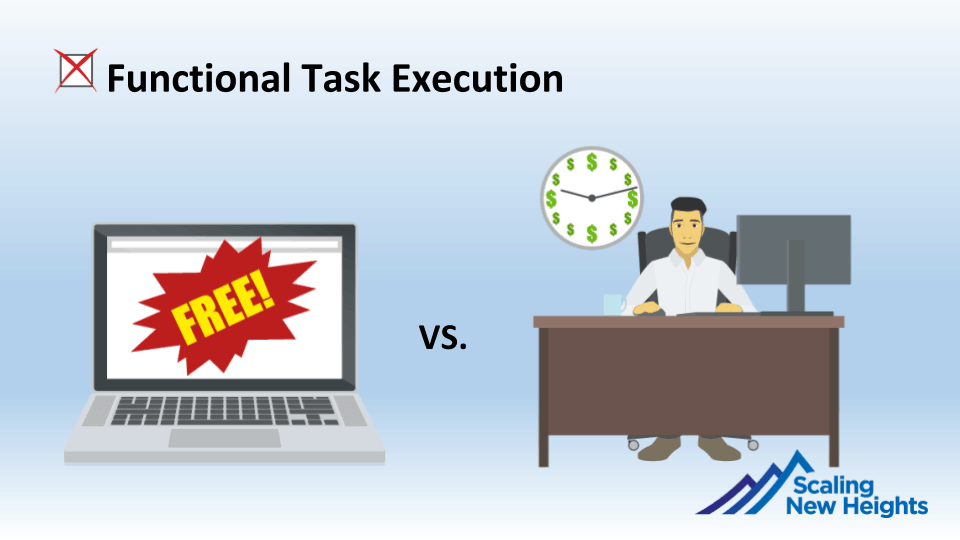 But what will change is the type of services they will be willing to pay for. When it comes to professional services, we're going to see a continuing shift away from functional task execution. Machine learning has gotten good at taking large amounts of data, finding patterns, and then applying those patterns to functional tasks.
Things like categorization and account coding, reconciliations, data entry – will all come to SMBs for free. SMBs won't be paying humans for this work. So, think of any services you offer that are repetitive, functional, non-novel. If you haven't already started, I suggest you start getting out of that work.
---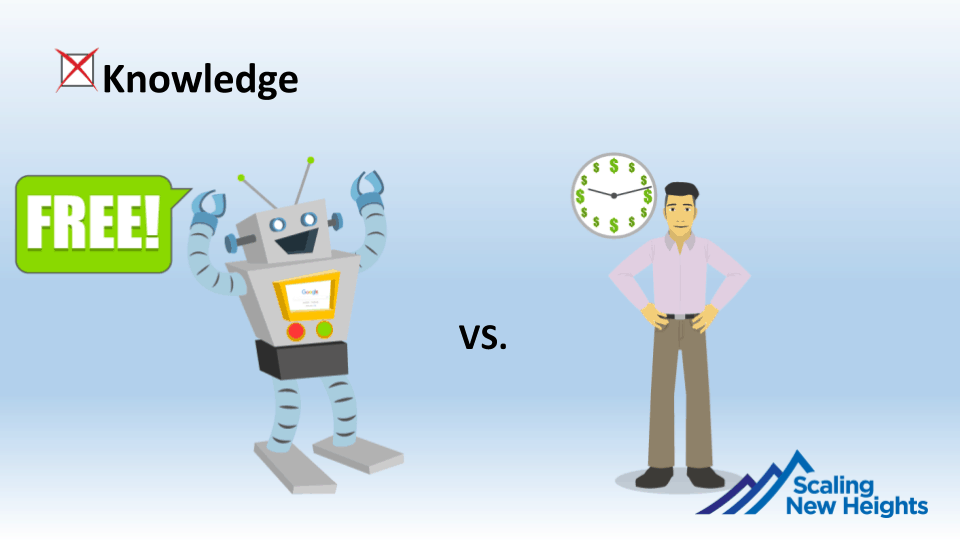 And – this one will hurt – SMBs also won't be paying us for our knowledge anymore.
Whatever we know, Google knows more! What SMBs can't find on Google, they'll get from machine-learning chatbots. These chatbots have an unfair advantage, not only will they be practically free, but they can draw conclusions from the experience of the entire public domain. We can only draw conclusions from our own personal experiences.
---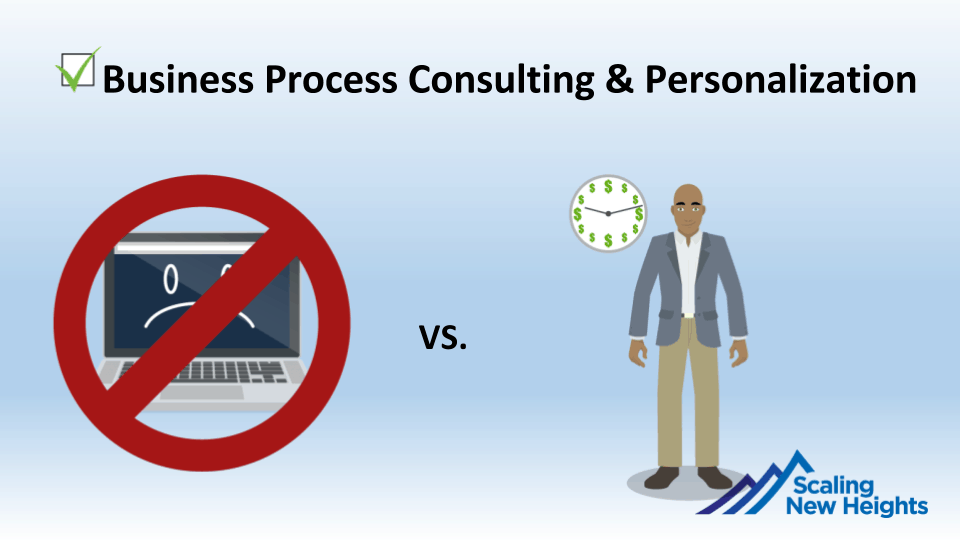 So, what will we do with our experience and skills? How can we apply the knowledge we have? Well, many of you are already successfully shifting towards Business Process Consulting.
And this is a good thing, because this is where machine learning falls flat. Machine learning is not good at providing novel solutions to unique problems. When you have unique problems, when human emotion is a factor, when reasoning is needed, when creativity is needed, or when there just aren't vast amounts of data for computers to find patterns from…we need humans.
SMBs all have a unique way of getting their work done, so they need unique solutions that only humans can give. This isn't going away! Think of solutions you've given to your clients that required you learn about their business problems and come up with a kick-ass personalized solution, just for them? Do more of this type of work.
This is where your value will be to SMBs. They will be looking to you, their trusted advisor, to shepherd them through this change. You'll help them by delivering personalized solutions.
---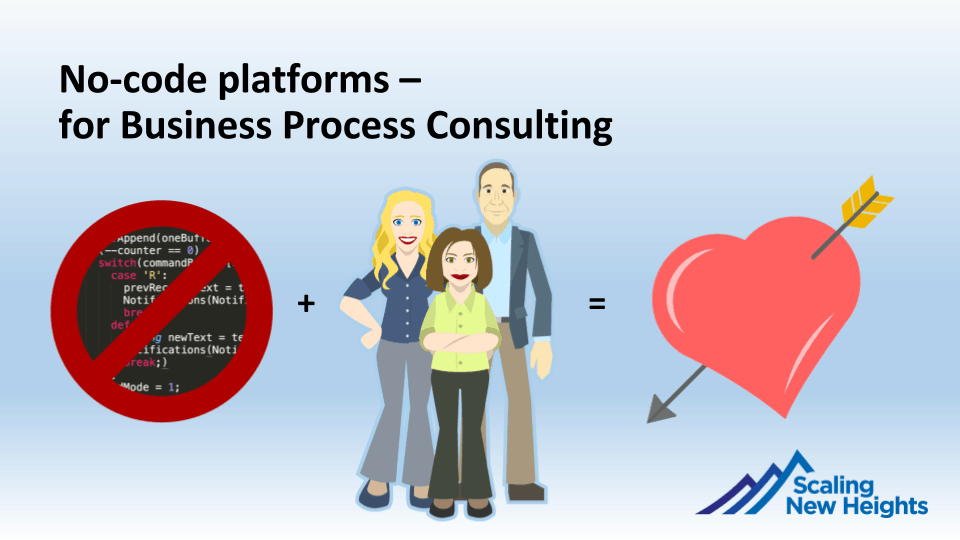 I happen to live in the world of personalized solutions. At my company we produce a no-code CRM platform that integrates deeply with QuickBooks. What "no-code" means is that you can use drag & drop tools, rather than code, to create personalized applications. So, in my position, I've heard some of your passionate stories from when you built personalized solutions for your clients.
Laura Redmond – I loved hearing your story last year at SNH! Laura came to me and said "Hey Paul, you have to check out the online order app that I built using Method!" My jaw hit the floor, as Laura showed what she had built. I won't do it justice here. But she had built a way to collect online payments from a unique and very complex pricing page, and had those payments feed into QuickBooks Online.
Victoria Cameron – I loved hearing your story about how you saved your small manufacturing client 3 hours a day by building a custom sales order approval process.
Joe Woodard – I loved hearing from your team, about you saved a Parking Lot Sweeping business 100s of hours a month by building a single button. When clicked, it generates a batch of invoices, calculates sales reps commissions and does subcontractor reconciliation. I can see why your team is so pumped by what they built.
This is what no-code platforms enable. The thing about Laura, Victoria and Joe is….they are not software developers. They're just like you – what we call citizen developers. They didn't code anything, they instead used wizards and drag & drop tools to build what their clients needed.
---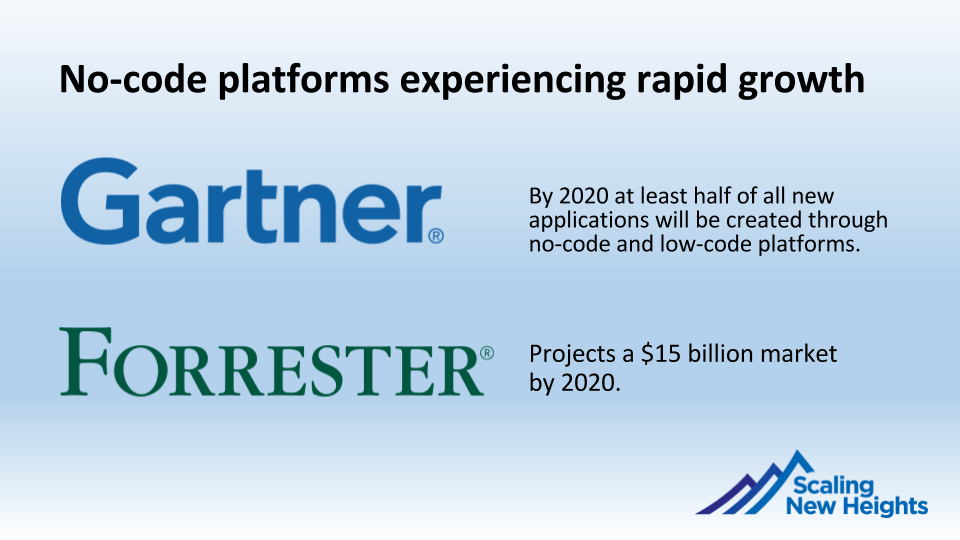 For anyone looking to shift to Business Process Consulting, and provide personalized solutions, no-code platforms are dream come true. And the demand for no-code is taking off! Gartner suggests that within the next 3 years at least half of all new applications will be created through no-code and low-code platforms. And Forrester projects a $15 billion market by 2020. This is getting big.
To sum up, the future with machine learning is not grim – it's exciting! Let's allow machine learning do the repetitive – dare I say mundane? – stuff that robots will be handling anyway. Instead, let's shift to providing personalized solutions. This is most exciting and most rewarding work there is. It's what makes you the most passionate.
Yes, as you shift, you may need to invest time learning new tools, and honing new skill sets. However, like Laura, Victoria and Joe, if you get started now, you'll be ahead of this big change coming our way.
---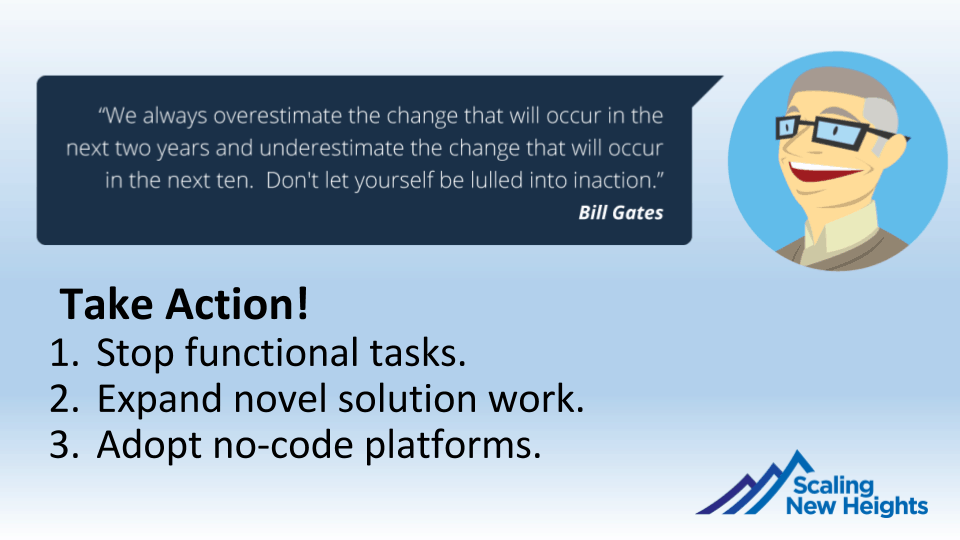 I'm going to end with a quote from Bill Gates that speaks to exponential change.
"We always overestimate the change that will occur in the next two years and underestimate the change that will occur in the next ten. Don't let yourself be lulled into inaction."
So take action!
Get out of doing work that is repetitive, functional, non-novel.
Expand services that are novel, solution based.
And take a hard look at no-code platforms to see if they are a tool you can use to provide more personalized solutions to your clients.
---
Join the Method Partner Program
Enhance your trusted adviser status with your clients by having the #1 rated CRM for QuickBooks in your back pocket, whether you want to add a new revenue line for your business or just provide better advice and support through customization services.
---