No matter how small your business is, your potential customers search for you online more often than you may think. And the information they obtain from search results, social media, articles, and your owned resources impacts the way they interact with you.

That's why having a strong online reputation is essential for all businesses today. The internet has made it easier than ever for small companies to share their missions and reach wider audiences. Unfortunately, the flipside is that other people can also share their thoughts about your company online. With all of this information (or misinformation) floating around, reputation risk becomes a big issue for many brands. According to a Deloitte survey, 88% of business executives name reputation threats as one of their primary business challenges.

Thus, having a strong online presence that reflects your brand's values and shows it in the most positive way should be one of your top marketing priorities. You should also keep an eye on how your brand is represented by third-party sources by monitoring what people are saying about you on various platforms.

Let's dive into this topic to see how you can build a strong online reputation for your brand.
1. Make Sure You Own the Top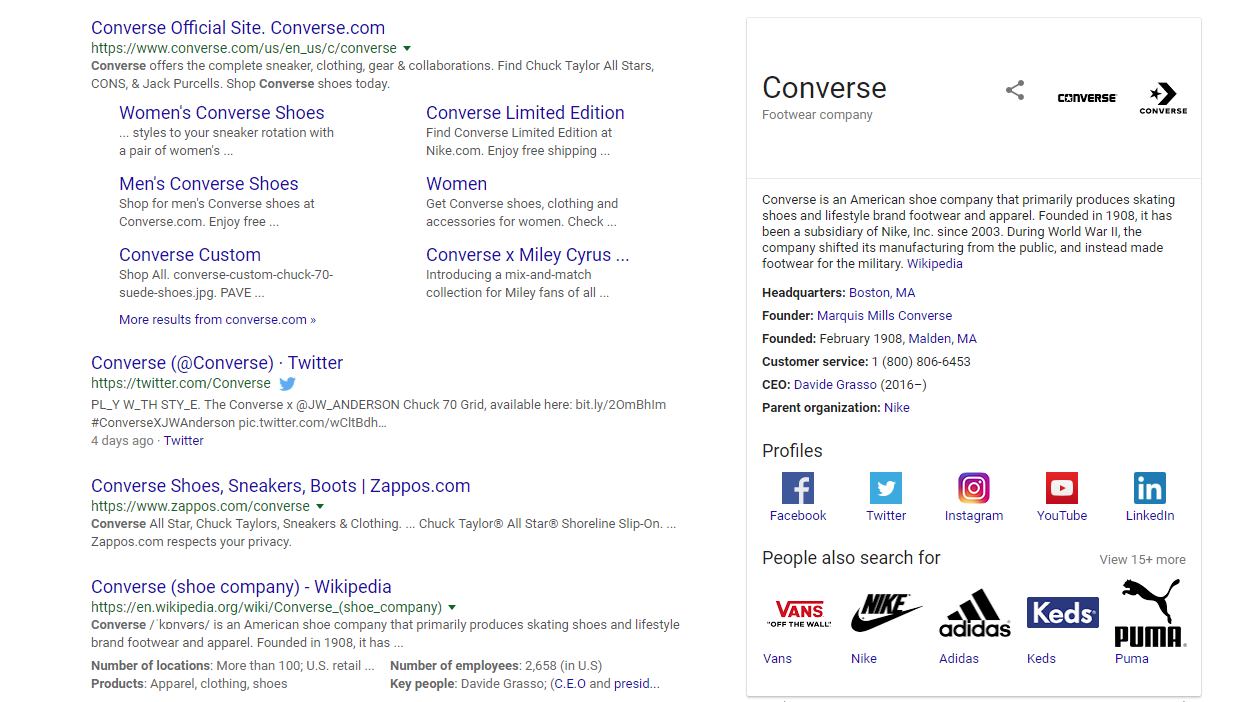 Naturally, when someone Googles your business, you want your website to pop up as the first result. Ideally, the next few results on the first page of the search should also be relevant to you. These might include your social media profiles, blog, YouTube channel, or essential website pages like your store or "About Us" page. For example, in the screenshot below, the top results of a Google search for "Converse" are all relevant to the shoe brand.

To ensure you own the top results for your brand, make sure all of your main pages link to each other. This means you should have links to all of your social media profiles from your website, and your website pages should receive links from your profiles.

You may also want to link to your pages from various third-party sites like forums and directories. This tells Google that your pages are "official" and helps to boost their rankings on search engine results pages (SERPs), like the one shown above.
2. Check Out Your Brand's Search Terms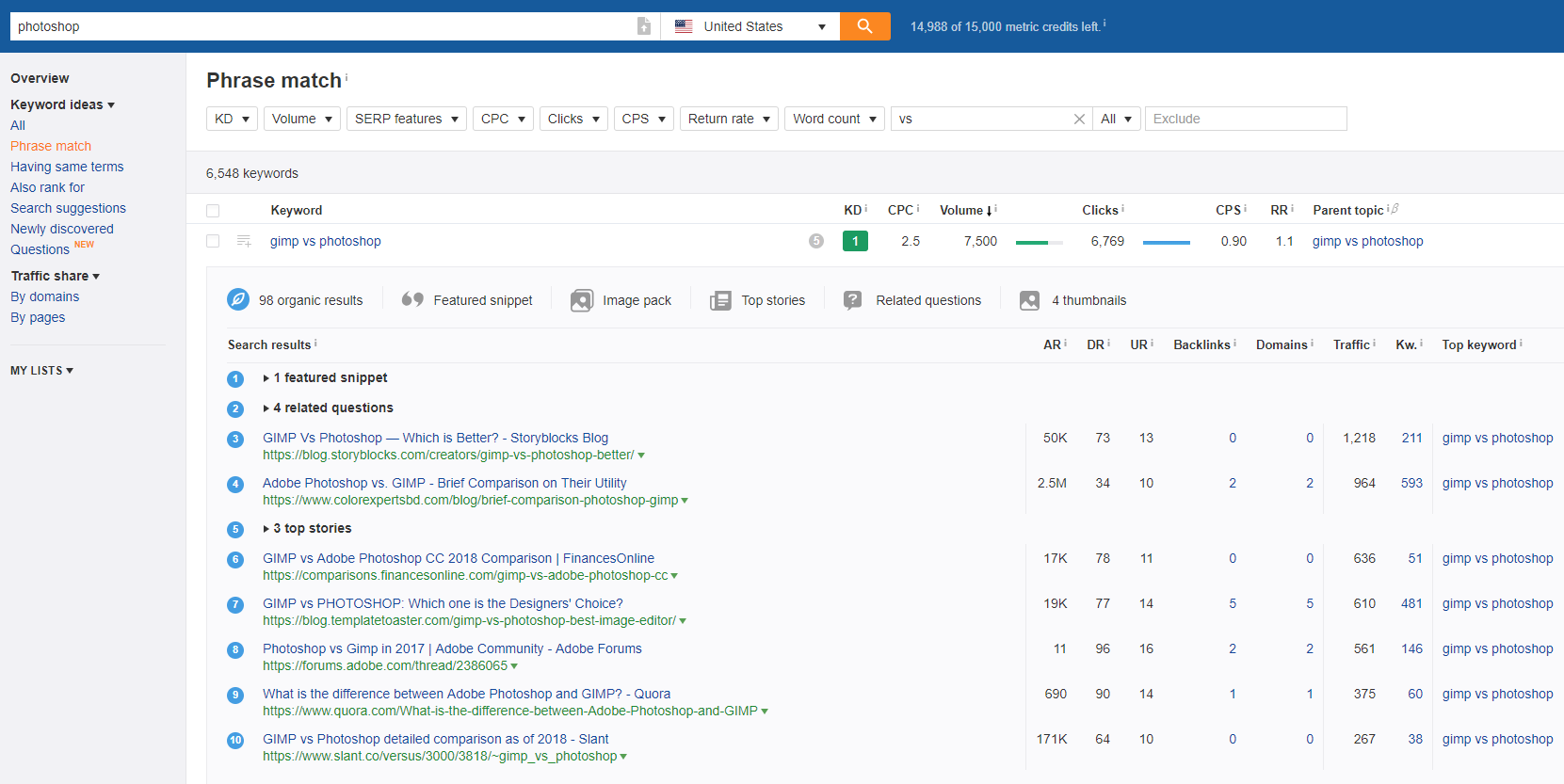 The words that people use while searching for your brand, products or services can have multiple variations. If you don't own the majority of search results for those terms, you might lose traffic and customers. When people don't find what they're looking for from your business, they may end up on your competitor's site.

To avoid this, use your favorite keyword tool to do some research. You'll want to check out your branded keywords, find their variants, and view the top 10 results for those keyword variants.

Let's use Photoshop as an example. Using the Keyword Generator in Ahrefs, you can view the phrase match results for the term "Photoshop." Including modifiers like "vs" or "alternative" in your search helps to narrow down the results and identify more specific search terms (called long-tail keywords). In the screenshot below, you can see that people are often searching for a comparison of two brands, like Photoshop and Gimp or Photoshop and Lightroom.

If you then check the SERP for one of those "vs" queries, you will see what types of results people receive when they search for that keyword phrase. In the screenshot below, the top positions for the keyword "Gimp vs Photoshop" are occupied by various blogs that have published articles comparing Gimp and Photoshop.

Now, say you work for Gimp. If you want to improve your online reputation, you should make sure your brand is positively represented in the top 10 search results for the "Gimp vs Photoshop" search query. Check out the content of those high-ranking blog articles. Note the dates the articles were published, see if the information provided is accurate, and assess if there's room for improvement.
If some of these top-ranking articles are outdated and contain information about your company that is no longer accurate, there are two ways of fixing the problem:
Reach out to the blog owners and ask them to amend the information. Don't forget to offer them a prepared paragraph, screenshot or another piece of content to save their time.

Create your own content with accurate information and try to outrank those articles — which brings us to our next point.
3. Create Content for Key Search Terms
If you take another look at the SERP for "Gimp vs Photoshop" above, you may notice that the Photoshop and Gimp websites don't occupy any of the top positions. As a result, this keyword presents an excellent opportunity for these companies improve their rankings and bring some nice traffic to their websites.

The main idea here is to create relevant content for the keyword and build some backlinks to it. Thus, Gimp could publish an article on its blog to highlight its advantages over Photoshop. For example, it might promote its flexibility, portability, and benefits for users who don't want to install complicated and costly software.

Next, Gimp would want to take steps to encourage other websites, blogs, and media resources to link back to this blog post in their own content. These backlinks raise awareness of a brand, boosts its reputation and improve its rankings in Google.
In fact, backlinks are still considered one of the strongest ranking factors. And if you refer back to the SERP for "Gimp vs Photoshop," you'll notice that those top-ranked articles don't actually have many backlinks. This is why creating your own content is so valuable: if you can create a relevant article that covers all aspects of a topic and then attract some backlinks to it, your content will start to outrank older pages.

Here are a few ideas to help you build backlinks to your content:
Refer back to your target keyword's search results and skim through the blogs that already discuss similar topics. After publishing your new content, reach out to the owners of those blogs and invite them to add a backlink to your article. Think about what's in it for them (i.e. they can share content that is more in-depth and more up-to-date with their readers) and describe those advantages. There's a good chance that some of these blogs will link to your article from their existing posts or include a link in their future posts.

Use Ahrefs'

Broken Link Checker

to identify backlinks that lead to "error 404" pages on your competitors' websites. Recreate these "missing" content pages on your website with your own twist, data, and tips. You can then reach out to those websites that are still linking to your competitors' broken pages and offer them your content as a replacement.
For more information on building backlinks, check out the video below:

4. Monitor Your Brand Mentions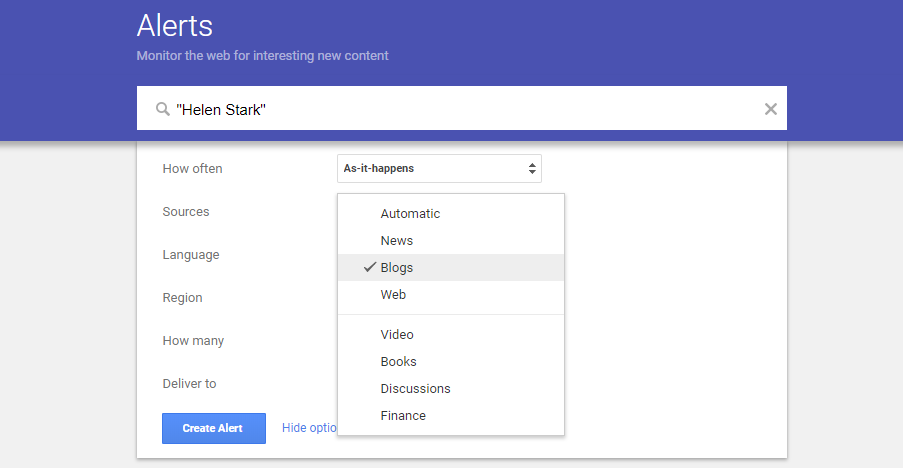 If your business is doing well, people will start to mention it online more and more frequently. To stay in the loop, you should monitor these mentions of your brand on a regular basis.
Setting up email alerts for your brand mentions helps you see who has mentioned your company online and what they're saying about you. The easiest way to do this is to set up Google Alerts to monitor these mentions. Set the language and sources of mentions you're interested in, then set the frequency of the alerts and choose the email to which you want to receive them.

Monitoring brand mentions online is an excellent tactic for preserving or improving your brand reputation. These mentions allow you to get the freshest information about how your company is perceived online — and to respond appropriately. If you receive negative mentions, you can react and fix the problems quickly. You can also take full advantage of any positive mentions that appear. Sending "thank you" emails to influencers who have posted a positive (and fair!) review of your company, product or service may result in more attention and positive reviews from them in the future.
5. Handle Negative Reviews on Social Media
People often use a company's social media pages to say thanks, express their opinions, or bring up issues. And how fast you react to those comments sometimes matters more than what you say in those comments. These days, most users expect brands to respond to their comments (especially negative ones) within an hour.
When using social media, show your customers respect and pay genuine attention to their issues. Even writing a short message, like "Thank you for reporting the issue — we will look into it" may be enough to de-escalate tensions and prevent a flood of negative comments from other customers. Of course, you should also aim to handle the issues as soon as possible, and report back on social media once you have done so.
Keep in mind that some people will use social media to make defamatory and unfounded statements, so do your best to not "feed the trolls" online. Try to beat their rudeness with humor, or keep your answers short and to-the-point to help end the conversation. But never delete users' comments! Things may get worse if you try to hide negative comments, as this can provoke a larger wave of criticism.
The Bottom Line
Remember that improving your brand's reputation online is not about erasing negative reviews and shutting down all communication. Instead, it's about representing your brand as a trustworthy business and informational resource.
Strive to establish a strong online presence that leaves no guesswork for your customers. Your website, blog, and social media pages should be the primary sources of information about your company for web searchers. You should also take care that other online sources mention your brand positively. By including online reputation management in your digital strategy, you'll be well on your way to building a loyal customer base for your business.