It's been a couple of weeks since QuickBooks Connect Toronto ended. We've gotten back into our normal routines and our days no longer start and finish with energizing presentations on the QuickBooks Connect main stage. But much like our favorite main stage moments from San Jose, our top takeaways from Toronto continue to inspire us.
Here are three of our favorite moments from the Toronto keynote talks.
"When you believe, anything is possible."
As the first featured speaker at QuickBooks Connect Toronto, it was up to Jon Montgomery to get the audience excited about the theme of the conference: anything is possible. Luckily, his experiences had more than prepared him for the task.
Montgomery is an Olympic gold medallist in skeleton racing and the host of The Amazing Race Canada. And while acquiring the hosting gig certainly required some self-confidence (especially because at first, "I assumed Ben Mulroney would get it, like every other show on CTV"), his athletic victory was a true testament to the power of believing in yourself.
Montgomery trained hard for years: not just to improve his physical skills, but also to bolster his mental strength. He credits two main strategies with helping him develop the unwavering belief that he could achieve his goals. The first was aligning himself with people who supported him. And the second was celebrating every little milestone along the way.
The first strategy came into play on the day of Montgomery's gold-medal run in 2010. As a Canadian competing in Vancouver, he knew that all Canadian eyes were on him. But instead of letting the pressure get to him, he chose to take advantage of "the support of 36 million people buoying me up."
Meanwhile, the strategy of celebrating small victories is key for all entrepreneurs. When you have a big dream (like winning an Olympic medal), it can be downright intimidating — especially if the endpoint currently seems very far away. But every journey begins with a single step. And once you begin, acknowledging your progress will help you keep moving toward your ultimate goal.
Advised Montgomery: "If you don't celebrate small victories, you'll quit before the miracle."
"Self-care is everything, especially if you want to look after other people as a business owner."
When you hear the word "entrepreneur," you may not immediately think of an award-winning singer and songwriter. But you should. As Jann Arden describes it, her 30-year music career "has so little to do with music that it's actually alarming. Sure, you put out an album every couple of years, but everything in between that is the business."
Arden hustled for eight years and was turned down by dozens of labels before signing her first record deal at age 30. Since then, she has released 14 albums and taken on numerous other roles, including author, broadcaster, producer, actress, and philanthropist.
Like any small business owner, Arden is constantly juggling a variety of professional and personal responsibilities. When asked what advice she would give to fellow entrepreneurs who are trying to balance it all, her answer was simple: prioritize your own health and well-being first.
Of course, this means eating well, sleeping enough, and getting regular exercise. Arden explained that her producer has this routine down pat. "He'll work for two or three hours, and then he'll get everybody up. We walk around the block. We look like penguins."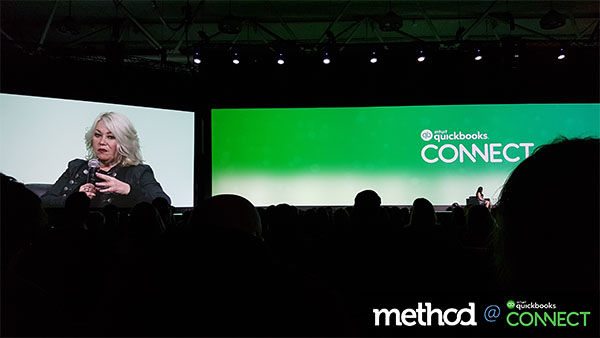 But equally important is the need to look after your mental health. Arden recalled her experience of burning out while spending hours a day caring for her parents. Eventually, she realized that she couldn't support them if she was running on empty: "Everybody loses if I don't look after myself."
Whether you're managing a team or running the show alone, it's a valuable lesson that all business owners should take to heart.
"Don't let starting be the thing that stops you."
Scott McGillivray is an accomplished real estate investor, media personality, and entrepreneur. But professional success didn't fall into his lap overnight.
During the final keynote at QuickBooks Connect Toronto, McGillivray described his first foray into real estate. As a university student, he realized that he was being overcharged for the place he was renting. He thought to himself: wouldn't it be better to own a place? However, the banks weren't as enthusiastic. "I tried to get financing and it didn't work out very well. So I did what any 20-year old would do — I gave up."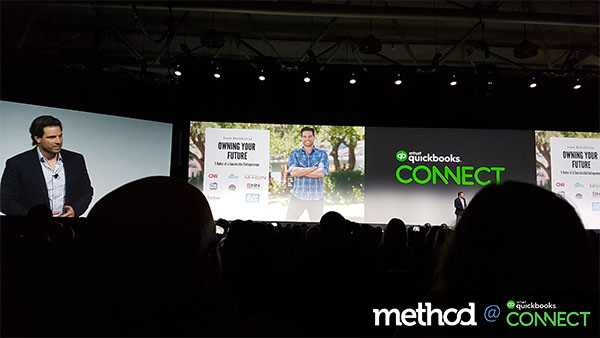 Eventually, McGillivray found a solution. He used the final installment of his student loan as a down payment ("I'm probably telling this to the wrong room," he admitted to his audience of accountants) and acquired a rental property. By the time he graduated, he had a waiting list of prospective tenants, so he figured he might as well buy another place.
Within a few years, McGillivray had multiple rental properties to his name. He became a licensed contractor and he started hosting the HGTV series Income Property. And when he realized there wasn't a lot of money involved in hosting a TV show, he began executive producing as well — because why not?
McGillivray has achieved great success, and it all began with finding a way to overcome an initial hurdle. Often, extraordinary people get stuck in ordinary lives because they're waiting for the right moment to take a leap. But as it turns out, the right moment is usually now.
"If there's an opportunity in front of you, don't think it's going to get any better — because chances are it's not. It gets better when you start doing it."
---
Want more #QBConnect content? Check out our full coverage of QuickBooks Connect Toronto 2018!